Hindered dialkyl ether synthesis with electrogenerated carbocations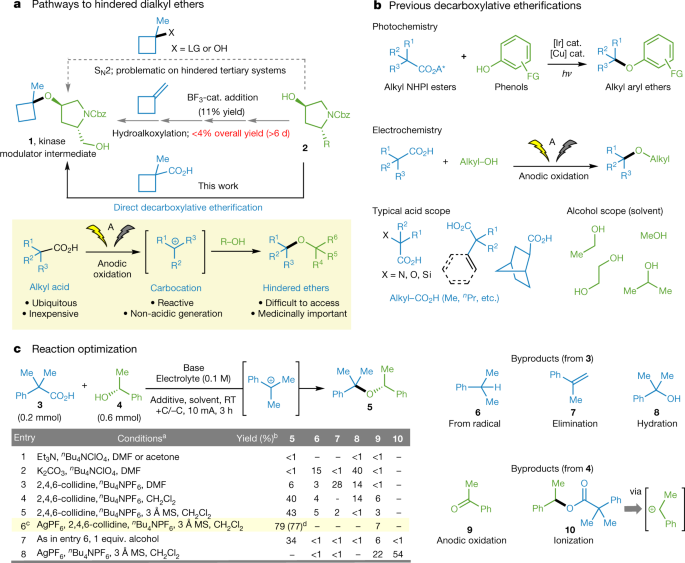 1.
Roughley, S. D. & Jordan, A. M. The medicinal chemist's toolbox: an analysis of reactions used in the pursuit of drug candidates. J. Med. Chem. 54, 3451–3479 (2011).
2.
Fischer, J. & Ganellin, C. R. (eds) Analogue-based Drug Discovery 206–217 (Wiley, 2006).
3.
Williamson, W. Ueber die theorie der aetherbildung. Justus Liebigs Ann. Chem. 77, 37–49 (1851).
4.
Kürti, L. & Czakó, B. Strategic Applications of Named Reactions in Organic Synthesis 484–485 (Elsevier, 2005).
5.
Swamy, K. C. K., Kumar, N. N. B., Balaraman, E. & Kumar, K. V. P. P. Mitsunobu and related reactions: advances and applications. Chem. Rev. 109, 2551–2651 (2009).
6.
Beyerman, H. C. & Heiszwolf, G. J. Reaction of steroidal alcohols with isobutene. Usefulness of t-butyl as a hydroxyl-protecting group in a synthesis of testosterone. Recl. Trav. Chim. Pays-Bas 84, 203–212 (1965).
7.
Smith, M. B. & March, J. March's Advanced Organic Chemistry 1037–1041 (Wiley, 2007).
8.
Abraham S. et al. Aurora kinase compounds and methods of their use. International patent no. WO2011088045A1 (2011).
9.
Kolbe, H. Beobachtungen über die oxydirende wirkung des sauerstoffs, wenn derselbe mit hülfe einer elektrischen säule entwickelt wird. J. Prakt. Chem. 41, 137–139 (1847).
10.
Hofer, H. & Moest, M. Mittheilung aus dem elektrochemischen Laboratorium der Königl, Technischen Hochschule zu München. Justus Liebigs Ann. Chem. 323, 284–323 (1902).
11.
Corey, E. J., Bauld, N. L., La Londe, R. T., Casanova, J., Jr & Kaiser, E. T. Generation of cationic carbon by anodic oxidation of carboxylic acids. J. Am. Chem. Soc. 82, 2645–2646 (1960).
12.
Luo, X., Ma, X., Lebreux, F., Markó, I. E. & Lam, K. Electrochemical methoxymethylation of alcohols – a new, green and safe approach for the preparation of MOM ethers and other acetals. Chem. Commun. 54, 9969–9972 (2018).
13.
Bunyan, P. J. & Hey, D. H. The electrolysis of some aryl-substituted, aliphatic acids. J. Chem. Soc. 1360–1365 (1962).
14.
Iwasaki, T., Hrorikawa, H., Matsumoto, K. & Miyoshi, M. Electrochemical synthesis and reactivity of α-alkoxy α-amino acid derivatives. Bull. Chem. Soc. Jpn. 52, 826–830 (1979).
15.
Tajima, T., Kurihara, H. & Fuchigami, T. Development of an electrolytic system for non-Kolbe electrolysis based on the acid−base reaction between carboxylic acids as a substrate and solid-supported bases. J. Am. Chem. Soc. 129, 6680–6681 (2007).
16.
Shtelman, A. V. & Becker, J. Y. Electrochemical synthesis of 1,2-disilylethanes from α-silylacetic acids. J. Org. Chem. 76, 4710–4714 (2011).
17.
Torii, S., Inokuchi, T., Mizuguchi, K. & Yamazaki, M. Electrolytic decarboxylation reactions. 4. Electrosyntheses of 3-alkyl-2-cycloalken-1-ol acetates from 1-alkyl-2-cycloalkene-1-carboxylic acids. Preparation of dl-muscone from cyclopentadecanone. J. Org. Chem. 44, 2303–2307 (1979).
18.
Coleman, J. P., Lines, R., Utley, J. H. P. & Weedon, B. C. L. Electro-organic reactions. Part II. Mechanism of the kolbe electrolysis of substituted phenylacetate ions. J. Chem. Soc., Perkin Trans. 2 1064–1069 (1974).
19.
Mao, R., Balon, J. & Hu, X. Decarboxylative C(sp3)–O cross-coupling. Angew. Chem. Int. Ed. 57, 13624–13628 (2018).
20.
Yan, M., Kawamata, Y. & Baran, P. S. Synthetic organic electrochemical methods since 2000: on the verge of a renaissance. Chem. Rev. 117, 13230–13319 (2017).
21.
Ross, S. D. & Finkelstein, M. Anodic oxidations. V. The Kolbe oxidation of phenylacetic acid and 1-methylcyclohexaneacetic acid at platinum and at carbon. J. Org. Chem. 34, 2923–2927 (1969).
22.
Schäfer, H. J. Recent contributions of Kolbe electrolysis to organic synthesis. Top. Curr. Chem. 152, 91–151 (1990).
23.
Koehl, W. J. Anodic oxidation of aliphatic acids at carbon anodes. J. Am. Chem. Soc. 86, 4686–4690 (1964).
24.
Iwasaki, T., Horikawa, H., Matsumoto, K. & Miyoshi, M. An electrochemical synthesis of 2-acetoxy-2-amino acid and 3-acetoxy-3-amino acid derivatives. J. Org. Chem. 42, 2419–2423 (1977).
25.
Huang, X., Liu, W., Hooker, J. M. & Groves, J. T. Targeted fluorination with the fluoride ion by manganese-catalyzed decarboxylation. Angew. Chem. Int. Ed. 54, 5241–5245 (2015).
26.
Eberson, L. & Nyberg, K. Studies on the Kolbe electrolytic synthesis. V. An electrochemical analogue of the Ritter reaction. Acta Chem. Scand. 18, 1567–1568 (1964).
http://feeds.nature.com/~r/nature/rss/current/~3/oWSFebXcf_8/s41586-019-1539-y